To better answer WHEN would be a good time to have an MRI, we need to understand a little background info.
First,
Good, I'm glad we got that out of the way…
Second,
here are the guidelines published by the American College of Physicians (ACP) and the American Pain Society (APS) for when it is appropriate to get an MRI.
These two organizations suggest MRIs should:
not be obtained on a routine basis for non-specific low back pain
be taken for severe or progressive neurological complications, or when a severe underlying condition is suspected
be taken if spinal stenosis or radicular signs and symptoms are observed, only if they are candidates for surgery
Non-specific low back pain: low back pain that is not due to a specific cause like a tumor, fracture, arthritis, herniated disc etc…
Neurological complications: numbness, tingling, altered sensation, weakness, muscular wasting or atrophy, abnormal reflexes
Spinal stenosis: narrowing of the spinal canal; can be due to herniated disc, fracture, bone spur
Radicular signs and symptoms: numbness, tingling in the buttocks, legs or feet
Third,
in most situations conservative treatment is appropriate and is the best option.
Conservative treatment includes massage, chiropractic, physical therapy, exercise and even meditation.
If you do choose to seek non-surgical and non-medication based treatment, MRIs should be considered if the following are true:
Your low back pain fails to improve with physical therapy over the course of 1 month of treatment
You have shows signs and symptoms of cauda equine syndrome (numbness in the groin area, see picture below) or a bacterial infection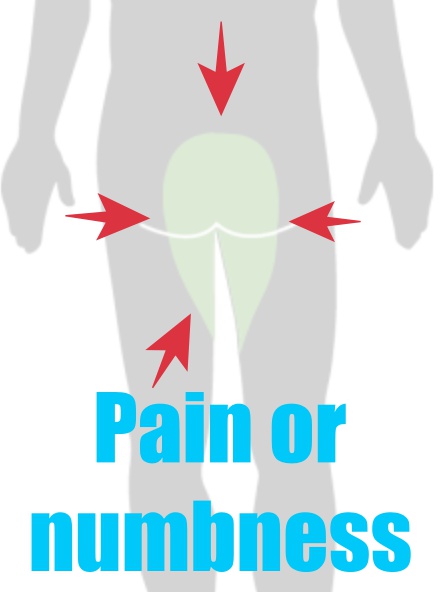 Bacterial infections are often accompanied by a fever. So if you've been feverish for a month, have back pain and haven't seen a doctor about that…
Go see one now!
Cauda equina syndrome is a life-threatening condition. If you show these signs and symptoms you should seek immediate medical attention.
NOTE TO THE READER: THIS BLOG POST DOES NOT OFFER ANY MEDICAL ADVICE.
IT IS FOR INFORMATIONAL PURPOSES ONLY.
YOUR SPECIFIC CASE NEEDS TO BE DISCUSSED WITH A QUALIFIED HEALTH CARE PROFESSIONAL.
Fourth,
if you have been treated by a chiropractor, massage therapist, physical therapist, have been exercising & following their advice AND you have not significantly improved for the past month, then it might be a good idea to consider seeking additional imaging or someone else to help.
For example, you've been up and down with the recovery but nothing seems to quite "stick" to improve how you feel.
Are you interested in learning more about MRIs and low back pain?
And maybe finding a solution to your back pain so you can enjoy beautiful Miami?
I want to share a story about two gentlemen:
The first patient: a 62 year old with two hip replacements, significant lumbar degenerative disc changes at multiple levels, osteophyte formation, and a retrolisthesis of L1-2 and L2-3.
Click HERE for blog on what all that means!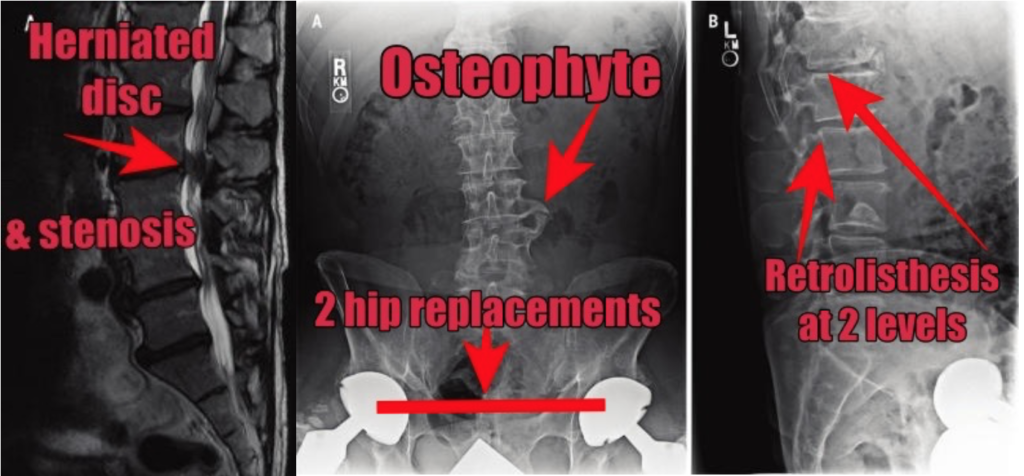 The second patient: a 32 year old mechanic with a history of chronic low back pain, took off of work on disability with an MRI that was "relatively unremarkable" with some degenerative disc disease of L4-5 and L5-S1 and mild disc protrusion at L4-5.
No nerve impingement. No hip replacement surgery. No additional bony outgrowth.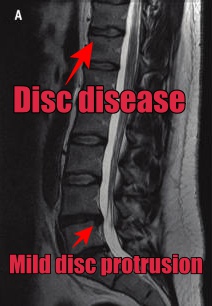 Who would you think had more pain, the first or second man?
Mr. 62-year-old had one single episode of back pain 8 years after his bilateral hip replacement-
…after canoeing and hiking for 2 WEEKS STRAIGHT!!
And he "WORKED THROUGH" the pain with stretching and ibuprofen while on his backpacking trip.
When he returned home, he had 9 sessions of physical therapy and then went on to backpack for another 2 weeks in the United States Continental Divide and had "0" back pain.
Superhuman?
Probably not.
===========
The mechanic?
Received 24 sessions of physical therapy over the course of 9 months.
And he continued to have moderate levels of low back pain and disability working a new desk job.
Check out this link to see the original article.
Would you like to know more about what pain actually is?
Want to know very effective ways to manage low back pain in Miami so you can get back to playing your sport, or maintaining an active lifestyle?
Call now for a complimentary assessment with Dr. Cory Abbate
786-475-3094
Dr. Cory Abbate
Doctor of Physical Therapy
BS Exercise Science
Certified Orthopedic Manual Therapist
Emergency Medical Responder
…
13944 SW 8th St STE 202
Miami FL, 33184
786-475-3094
info@drabbate.com
www.drabbate.com
Other people also searched for
Physical therapy in Miami
Miami physical therapist
Exercises for low back pain